There are many benefits to developing and consistently implementing a daily routine. If you're looking for ways to help your child succeed both in and out of school, here are a few reasons to consider fine-tuning your routines.
Family Bonding
If you're looking for simple ways to bond as a family, establishing a daily routine is a great way to do so. When you create routine for your children and your family, you are teaching them what to value and prioritize in their lives. For example, if you make it a point to have a family movie night each Friday, they will begin to realize how important spending time together is. Eating dinner together, going on a Sunday drive, or taking a yearly vacation are other things you can add to your routine that will help your family bond.
Set Internal Clocks
A routine is great for helping kids set their internal clocks on a day-to-day basis. For example, a consistent routine will help your child nap and go to sleep at appropriate times. It will help your child's ability to eat healthy, full meals. It can also help your child with consistent bowel movements. Routines help your child with healthy indoor and outdoor play. They also allow your child the ability to have calm, relaxed, quiet time during the day as well.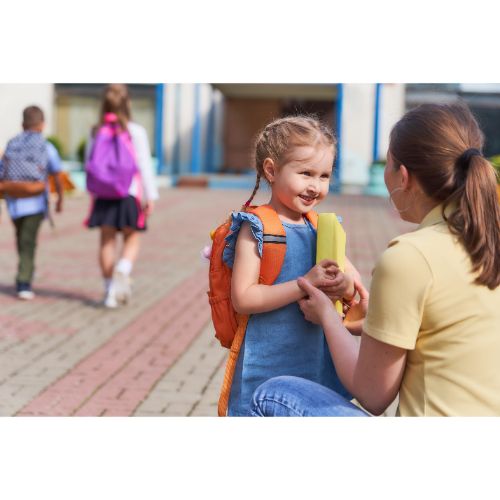 Fosters Confidence and Independence
Routines are great for teaching your child both confidence and independence. An article written for petitjourney.com.au explains, "With a routine, a child will learn over time when it's time to brush their teeth or put on their pajamas. They will take pride in knowing what they are supposed to do – and doing it by themselves. Rather than always being told what needs to happen, your child will feel confident to go ahead and be in charge of themselves. When children feel empowered and independent, they are less likely to rebel or retaliate."
Creates a Calm House
Routines create expectations and roadmaps for everyone. When your children know what they need to do before and after school, it helps reduce anxiety and stress. Additionally, routines also foster greater participation. Your children will feel included in daily plans and will be less likely to push back.
Helps in Developing Healthy Habits
Repetition is key to helping kids develop healthy habits. From eating a balanced breakfast in the morning to brushing their teeth each night, routines help create constructive habits. Consistency will also help them develop time management skills and self-discipline. It might not seem like much, but healthy routines will serve your children for the rest of their lives. Start young and watch your children flourish.
A daily routine is not only important for a child while they're in school, it's important to have one at home as well. Set your child up for continued success by implementing a routine that will help them thrive now and for the rest of their lives.